My replacement server for the PlayJam GameStick micro console is ready for semi-public testing. It allows you to finish the initial setup (OOBE), list all the games, and download + play 130 of them.
It's not complete yet: We know of games that cannot be controlled properly because button mappings are missing, and achievements are not yet stored on the server. Firmware updates are not distributed. Probably many other issues are waiting to be found.
It is semi-public because GameStick devices have to be white-listed by me.
Whitelisting process​
When your GameStick is stuck in the initial setup, attach a keyboard. On the language selection screen, type "hardware" and your GameStick's hardware ID will be shown in the top left corner.
Send that hardware ID by mail to me via cweiske+gamestick@cweiske.de or join the GameStick Fans Discord chat server and contact me there.
If the hardware ID does not appear, continue until WiFi setup and complete it. The GameStick will contact my server automatically and I can read the ID from the logs. Open ip.cweiske.de in your browser and send me that IP address, so I can correlate IP and hardware ID.
Setup process​
The GameStick setup in screenshots:
The Gamestick OOBE lets you select the language, setup WiFi and shows a verification code:
Then you need to continue in your browser: Enter a name, select a profile image and choose the age rating for games.
When you finish setup in the browser, the GameStick will show your "Gamer tag" (name) and the profile image (only on firmware 2058, non on 2071):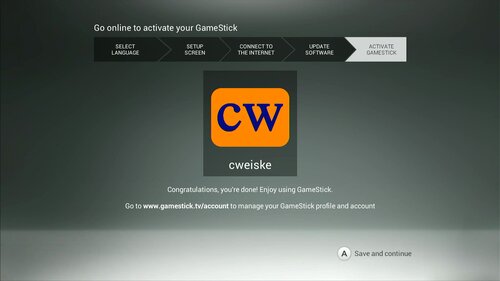 Afterwards the boot video will play and you'll the the main user interface that you can use to download + play games: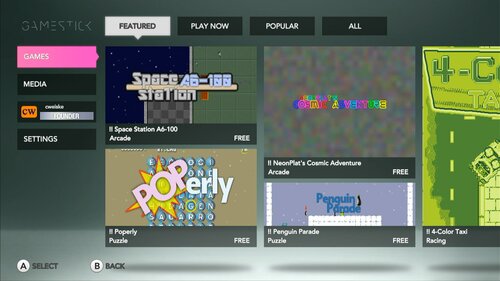 Games names beginning with !! indicate that they cannot be downloaded. We currently have .apk files for 131 of the 188 games.