Yesterday Shenzen UFO Technology Co. released version 8.0.30.50 of their trojan-infested file manager Android app. ​
The good parts​
The first noticable change is that the .apk file size dropped from 2.3 MiB to 1.9 MiB. ​
AndroidManifest.xml does not require permissions ACCESS_COARSE_LOCATION and ACCESS_FINE_LOCATION anymore. It also does not run in the background anymore. ​
And finally, I could not find a trace of the dark.silent trojan in their code anymore. ​
The bad parts​
In my previous article I wrote that I used adb backup to get a copy of the file manager for further analysis. The Tinno/UFO people likely thought that having trojans in their code is bad, and removed the manifest's android:allowBackup="true" application attribute. ​
Apart from that, the app still wants too many permissions: ​
Communication: Google​
At first I tried to contact Google Play Store support via the "Flag as inappropriate" link, which led me to a "Report Inappropriate Apps" form. I provided a description, the google play store link and my contact data. ​
The only thing I got back was an e-mail telling me that I probably don't know what I do and I should "Please provide a link to the application on http://play.google.com *". I already gave them this information, so I stopped here. ​
Communication: Tinno​
On 2018-01-13 I sent the then-listed email address "swrd@tinno.com" an email telling them that their file manager uses massive amount of mobile data. (I did not know about the trojan at that point). ​
I got an e-mail back stating ​
Sorry, we will fix this problem as soon as possible. ​
I sent them an e-mail on 2018-01-17 explaining that there is a trojan in their code. There was no response at all. ​
Communication: Wiko support​
The saddest thing I did was contacting the German Wiko support. Here is the english translation of that "dialogue": ​
The default file manager of my Wiko Rainbow Up uses a massive amount of mobile data since mid of december (December: 340 MB and January (1.-12.) 437MB). ​

Why does that happen? A file manager should not open any internet connections. ​

Me, 2018-01-13​

​
We're sorry bullshit etc. ​

To find out which application uses those data, open the settings -> data usage -> mobile data usage. [...] ​

We hope we could help you. ​

German Wiko Support, 2018-01-15​

​
No, you did not help me. You did not even read my e-mail. ​

I already wrote that the file manager is the one using mobile data. ​

The question is why you are shipping a file manager that uses mobile data. So tell me why. ​

Me, 2018-01-16​

​
The file manager is a program, with which you can list applications and files, that can be moved. ​

As we already told you, the file manager is not the one using mobile data, but some other application. ​

The way suggested by my colleague is the correct one to find out which application is that. ​

German Wiko Support, 2018-01-16​

​
The file manager uses mobile data.
The file manager contains a trojan, which loads malicious code from the internet. ​

I attached screenshots and analyzed that: https://cweiske.de/tagebuch/dark.silent.htm. ​

You will see that the file manager is responsible for the data usage. ​

Me, 2018-01-17​

​
As we read from your e-mail, you are worrying that you have a trojana [yes, their writing!] on your device. ​

We would suggest that you re-flash your device. Here are the steps: [...] ​

If the update is successful and the error has been fixed, please do not download all applications back onto your device. ​

Perhaps an application installed by you is causing this problem. Load applications one by one onto your device to find the fauly app. ​

German Wiko Support, 2018-01-22​

​
(shibboleth) [yes, I was desperate enough to try it] ​

I have followed the steps that you advised and reset the device to factory settings. I did not install any apps. ​

The file manager did not use any mobile data. ​

After getting the lateset file manager update via the Google Play Store, it began using mobile data again. Also, after the update sudden wifi disconnects started to appear. ​

Me, 2018-01-22​

​
[empty e-mail]​

German Wiko Support, 2018-01-23​

​
That's it. Support hell. ​
Fun​
After noticing myself that a new com.ape.filemanager version had been released, I saw that "Shenzhen UFO Technology Co.,Limited" had changed their Google Play profile. Their homepage is now ufomobi.com and their e-mail address is admin-googleplay@ufomobi.com. ​
On that new homepage, they list their clients: ​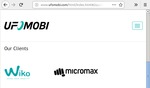 ​
Look at the Wiko logo: Share your identity. ​
Given that their malicious trojan payload probably uploaded all the user's data to ad networks, that slogan told the truth - fully. ​