I made a list of features that a good data pager should have, implemented them in my search engine and made many screenshots of pagers in other web applications. ​
---
When implementing my self-made search engine phinde, I needed a way to split the search results onto multiple pages. ​
At first I used the standard sliding pager provided by PEAR's HTML_Pager but found it to be lacking usability. ​
States of a standard sliding pager​
Let's look at a standard sliding pager that is configured to show data on 5 page numbers of a total of 9: ​
FirstPrev123...NextLast
FirstPrev1234...NextLast
FirstPrev12345...NextLast
FirstPrev...23456...NextLast
FirstPrev...34567...NextLast
FirstPrev...45678...NextLast
FirstPrev...56789NextLast
FirstPrev...6789NextLast
FirstPrev...789NextLast ​
This is not ideal. ​
Definition of "good"​
To me, a good pager must be based on the sliding pager and have the following additional features: ​
States of the good pager​
The good pager looks like this, also with 5 pages being shown of 9: ​
Prev123...9Next
Prev1234...9Next
Prev12345...9Next
Prev123456...9Next
Prev123456789Next
Prev1...456789Next
Prev1...56789Next
Prev1...6789Next
Prev1...789Next ​
This is implemented in phinde. Have a look at search.cweiske.de/?q=php&page=7. ​
I'm showing the first and last two pages there, but I'm not sure yet if that's better than showing only one. ​

​
Other pagers​
A collection of pagers in other web applications. ​
CircleCI​

​
dockerui​

​
GitHub​

​
GitLab​

​
Heise online​

​
JIRA​

​
MediaGoblin​

​
Piwik​

​
Postfixadmin​

​
Stackoverflow​
​
Woltlab Burning Board​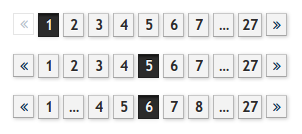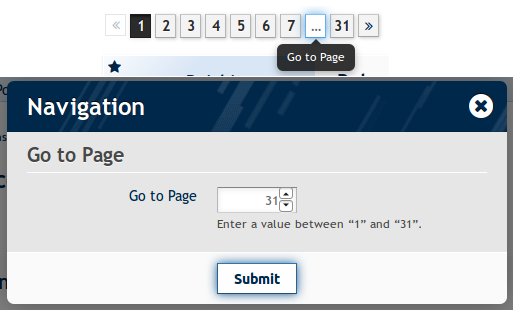 ​
XKCD​